Materials in bionanotechnology and biomedical lab
The group is active in biomedical research, with particular emphasis on engineering in surgery, biomolecular, cellular and tissue engineering; controlled drug delivery; bioartificial systems and materials. The group is highly multidisciplinary with competences ranging from chemistry to materials science and biomedical engineering, and combines expertise in polymer synthesis, biomedicine, engineering and bionanotechnologies to design novel bioinspired constructs able to guide and induce specific biological responses.
The team is divided in 2 groups, working in two different laboratories located in Turin and Alessandria.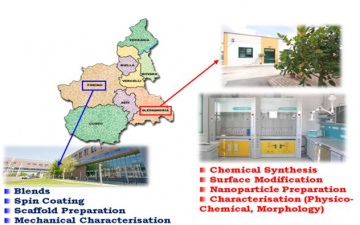 Leader
Staff
Research fellows, PhD students, adjunct professors
Projects
Selected funded research projects

EXOCRINE GLANDULAR TISSUE MODELS THROUGH PRECISELY DESIGNED BIOMIMETIC ENVIRONMENTS: AN ENGINEERING TOOL TO IMPROVE UNDERSTANDING AND TREATMENT FOR PANCREATIC CANCER (ERATOSTHENES)
CIARDELLI GIANLUCA
2023 - 2025 (Current)
PLASMA-ACTIVATED HYDROGEL: NEW FRONTIERS SOLUTIONS IN CARDIAC REGENERATIVE MEDICINE
CHIONO VALERIA
2023 - 2025 (Current)
DEVELOPMENT OF A THERAPEUTIC STRATEGY TO SUPPRESS LSD1 AND PRMT6-MEDIATED TOXIC GAIN OF FUNCTION IN SBMA
CHIONO VALERIA
2023 - 2025 (Current)
NANOPARTICELLE POLIMERICHE IBRIDE PER UNA TERAPIA A BASE DI MICRORNA PER LA RIGENERAZIONE CARDIACA: PERCORSO DI AVVICINAMENTO ALL'APPLICAZIONE CLINICA (NANOCARD).
CHIONO VALERIA
2023 - 2024 (Current)
HUMAN MULTI-TISSUE PLATFORM FOR COMPREHENSIVE EVALUATION OF CHEMICAL TOXICOLOGY ON A CHIP
CIARDELLI GIANLUCA
2022 - 2024 (Current)
ENVIRONMENTAL TOXICITY CHEMICAL MIXTURES THROUGH AN INNOVATIVE PLATFORM BASED ON AGED CARDIAC TISSUE MODEL
CIARDELLI GIANLUCA
2021 - 2024 (Current)
NANOPARTICELLE POLIMERICHE IBRIDE PER UNA NUOVA GENERAZIONE DI VETTORI NON VIRALI PER TERAPIA GENICA NELLA RIGENERAZIONE CARDIACA (POLHYGENTH).
CHIONO VALERIA
2022 - 2023 (Current)
VISCO3DCELL- SVILUPPO DI UNA METODOLOGIA NON-INVASIVA PER LO STUDIO DELLE PROPRIETÀ VISCOELASTICHE DI COLTURE CELLULARI 3D.
CHIONO VALERIA
2021 - 2022 (Current)
CARATTERIZZAZIONE CHIMICO-FISICA E MORFOLOGICA PER DETERMINARE LA PRESENZA DI COLLAGENE E LIPIDI IN CAMPIONI
CARMAGNOLA IRENE
2022 - 2023 (Completed)
DIRECT CELL REPROGRAMMING THERAPY IN MYOCARDIAL REGENERATION THROUGH AN ENGINEERED MULTIFUNCTIONAL PLATFORM INTEGRATING BIOCHEMICAL INSTRUCTIVE CUES
CHIONO VALERIA
2018 - 2023 (Completed)
EVPRO - DEVELOPMENT OF EXTRACELLULAR VESICLES LOADED HYDROGEL COATINGS WITH IMMUNOMODULATORY ACTIVITY FOR PROMOTED REGENERATIVE OSSEOINTEGRATION OF REVISION ENDOPROSTHESIS
CIARDELLI GIANLUCA
2019 - 2022 (Completed)
DIGITAI TECHNOLOGY FOR LUNG CANCER TREATMENT
CIARDELLI GIANLUCA, PIRRI CANDIDO
2018 - 2021 (Completed)
HYGLIO - THERANOSTIC INJECTABLE HYDROGEL FOR GLIOBLASTOMA
CIARDELLI GIANLUCA
2015 - 2019 (Completed)
HYMEDPOLY - DRUG-FREE ANTIBACTERIAL HYBRID BIOPOLYMERS FOR MEDICAL APPLICATIONS
CIARDELLI GIANLUCA
2015 - 2018 (Completed)
REBIOSTENT - REINFORCED BIORESORBABLE BIOMATERIALS FOR THERAPEUTIC DRUG ELUTING STENTS
CIARDELLI GIANLUCA
2014 - 2016 (Completed)
DESTINI - SVILUPPO DI UNA PIATTAFORMA DI STENT IN LEGA DI NITINOL (NICHEL-TITANIO) CON SUPERFICIE A RILASCIO DI FARMACO IDONEA AD APPLICAZIONI PER IL TRATTAMENTO DELL'ISCHEMIA CRONICA DEGLI ARTI INFERIORI
CIARDELLI GIANLUCA
2014 - 2016 (Completed)
INGEGNERIZZAZIONE DI MODELLI D'ORGANO DI INTERESSE FISIOLOGICO E PATOLOGICO PER L'INDAGINE DI DISTURBI LEGATI ALL'INVECCHIAMENTO. (MIND)
CIARDELLI GIANLUCA
2013 - 2016 (Completed)
BIO_GBR - BIOENGINEERED SCAFFOLD FOR GUIDED BONE REGENERATION
CIARDELLI GIANLUCA
2015 - 2015 (Completed)
CARATTERIZZAZIONE DI MATERIALI POLIURETANICI TERMOSENSIBILI PER APPLICAZIONE NEL RILASCIO DI FARMACI
CIARDELLI GIANLUCA
2014 - 2015 (Completed)
MATERIALI BIOARTIFICIALI E SCAFFOLD BIOMIMETICI PER LA TERAPIA A BASE DI CELLULE STAMINALI NELLA RIGENERAZIONE DEL MIOCARDIO
CHIONO VALERIA
2012 - 2015 (Completed)
ANALISI DELLE CARATTERISTICHE DI LINEE IN POLIVINILCLORURO PVC PER APPLICAZIONI IN EMODIALISI
CIARDELLI GIANLUCA
2014 - 2014 (Completed)
B3-BARRIER - DISPOSITIVI BIOARTIFICIALI E BIORIASSORBIBILI CON PROPRIETÀ BIOMIMETICHE E DI BARRIERA SELETTIVA PER LA CHIRURGIA RIGENERATIVA ORALE
CIARDELLI GIANLUCA
2012 - 2014 (Completed)
BICONERVE - BIOMIMETIC CONSTRUCTS FOR NERVE REGENERATION
CIARDELLI GIANLUCA
2011 - 2014 (Completed)
HERNAX - PROTESI AUTO-ADESIVA PER LA RIPARAZIONE DELLE ERNIE
CIARDELLI GIANLUCA
2011 - 2014 (Completed)
RIVESTIMENTI A BASE DI BIOPOLIMERI PER UN EFFICACE TRATTAMENTO DELLE FERITE (BIOPOLYMER BASED DRESSINGS FOR EFFICIENT WOUND MANAGEMENT-BIODRESS)
CIARDELLI GIANLUCA
2011 - 2013 (Completed)
NANOSTENT - MATERIALI E NANOTECNOLOGIE PER DISPOSITIVI ENDOVASCOLARI DI NUOVA GENERAZIONE
CIARDELLI GIANLUCA
2010 - 2013 (Completed)
MATERIALI BIOMIMETICI INGEGNERIZZATI PER LA RIGENERAZIONE DEI TESSUTI MUSCOLARI
CIARDELLI GIANLUCA
2010 - 2012 (Completed)
PROGRAMMA VIGONI (BANDO 2009) - PEPTIDE-FUNCTIONNALIZED POLYURETHENES STIMULATING CELL GROWTH, MIGRATION AND DIFFERENTIATION
CIARDELLI GIANLUCA
2010 - 2011 (Completed)
EVALUATION OF A NEW TENDONS REPAIR PROCEDURE
CIARDELLI GIANLUCA
2009 - 2010 (Completed)
MATERIALI INNOVATIVI E NANOSTRUTTURATI PER APPLICAZIONI TESSILI NEL SETTORE MEDICALE
CIARDELLI GIANLUCA
2009 - 2010 (Completed)
REPERIMENTO E CARATTERIZZAZIONE DI SPECIFIC MATERIALI POLIMERICI UTILIZZATI NELLA REALIZZAZIONE DI COPPA ACETABOLARI PER PROTESI D'ANCA
CIARDELLI GIANLUCA
2009 - 2010 (Completed)
PHOTONANOTECH - PHOTOZYME NANOPARTICLE APPLICATIONS FOR WATER PURIFICATION, TEXTILE FINISHING, PHOTODYNAMIC BIOMINARILIZATION AND BIOMATERIAL COATING
CIARDELLI GIANLUCA
2007 - 2010 (Completed)
RIGENERAZIONE DEL NERVO PERIFERICO MEDIANTE DISPOSITIVI BIOARTIFICIALI (RICERCA SANITARIA FINALIZZATA 2007)
CIARDELLI GIANLUCA
2007 - 2009 (Completed)
NUOVI POLIMERI BIOATTIVI DEGRADABILI NELLA PROGETTAZIONE DI SCAFFOLD MICROSTRUTTURATI PER LA PROLIFERAZIONE E DIFFERENZIAMENTO CELLULARE
CIARDELLI GIANLUCA
2006 - 2008 (Completed)
PARERE SULL'UTILIZZO DI MATERIALI INNOVATIVI NANOCOMPOSITI PER LA RIPARAZIONE DEI DIFETTI DELLA PARETE ADDOMINALE E DEL PAVIMENTO PELVICO IN BASE ALLE LORO PROPRIETÀ MECCANICHE E FUNZIONALI
CIARDELLI GIANLUCA
2007 - 2007 (Completed)
HIPERMAX - HIGH PERFORMANCE INDUSTRIAL PROTEIN MATRICES THROUGH BIOPROCESSING
CIARDELLI GIANLUCA
2005 - 2007 (Completed)
Publications
Selected recent publications

At press time

2023

2022

2021

2020

2019

2018

2017

2016

2015

2014

2013

2012

2011

2010

2009

2008

2007

2006

2005

2004

2003

2002

2001

2000

1999

1998

1997

Processi e tecnologie per la realizzazione di prodotti tessili innovativi
Proceeding


Ciardelli, Gianluca; Castelvetro, V.; Guasti, F.
In: Titolo volume non avvalorato
mit nobiltech (busto arsizio (italia)) 5-8 giugno 1997


Synthesis of Fluorescence-Labeled Short-Chain Polyester Segments for The Investigation of Bioresorbable Polyesterurethanes
Article


Ciardelli, Gianluca; Saad, B; Lendlein, A; Neuenschwander, P; Suter, U. W.
MACROMOLECULAR CHEMISTRY AND PHYSICS
Vol.198 ISSN:1022-1352

Synthesis of Biomedical, Fluorescence-Labeled Polyesterurethanes for the Investigation of Their Degradation
Article


Ciardelli, Gianluca; Kojima, K; Lendlein, A; Neuenschwander, P; Suter, U. W.
MACROMOLECULAR CHEMISTRY AND PHYSICS
Vol.198 ISSN:1022-1352

1996

1995

1994