MUL2 (MULtilayered structures and MULtifield analyses)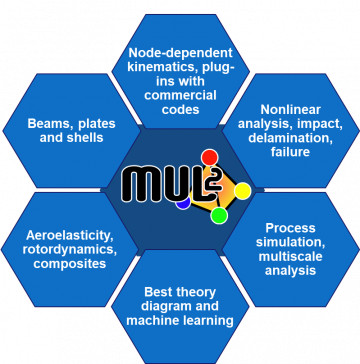 The MUL2 group research activity focuses on various topics related to the structural analysis and design of aerospace and mechanical structures. Among the others, MUL2 has a long-standing experience on the multifield analysis of multilayered structures with the ai of providing modelling capabilities with superior accuracy and computational efficiency as compared to those available in commercial codes.
The theoretical pillar of the research activity is the Carrera Unified Formulation (CUF) and the development of an in-house finite element (FE) code based on CUF. The CUF dates back to two decades ago with applications related to plates and shells via strong- and weak-form solution schemes. The CUF proved to be particularly fit for detecting the 3D distributions of stress in multilayered structures with multifield capabilities. Furthermore, early works highlighted the versatility of the framework in dealing with advanced modelling schemes such as layer-wise and the RMVT.
CUF models are available for beams too. The 1D approach resulted in further computational efficiency with up to twofold saving in memory and time if compared to 3D FEM. The 1D CUF led to the introduction of the component-wise approach (CW) to model multi-component structures. e.g., aircraft wings and fuselage, launchers, fibre/matrix cells, via 1D models relying on the same family of FE arrays with direct and physically meaningful coupling. Further applications favoured by the 1D CUF are the rotordynamics, progressive failure analyses and the evaluation of free-edge effects.
The current research activity focuses on various applications, including Aeroelasticity, Aircraft and Spacecraft Design, Best Theory Diagrams, Biomechanics, Composites, Damage and Failure, Meshless Methods, Multifield Analysis, Rotor-Dynamics, Structure Mechanics and FEM.

Web site
Leader Staff Research fellows, PhD students, adjunct professors
Projects
Selected funded research projects

NONLINEAR ANALYSIS FOR VIRTUAL DESIGN OF COMPOSITE DEPLOYABLE APACE BOOMS AND MEMBRANES
AUGELLO RICCARDO
2023 - 2026 (Current)
MULTI-SCALE CONTINUOUS AND COUPLED NON-LOCAL MODELS FOR FAILURE ANALYSIS AND DAMAGE DETECTION IN 3D PRINTED COMPOSITES
PAGANI ALFONSO
2022 - 2026 (Current)
AN AI-ASSISTED VIRTUAL MANUFACTURING APPROACH TO MITIGATE DEFECTS IN ADVANCED COMPOSITES
PETROLO MARCO
2023 - 2025 (Current)
PROROGA CONTRATTO N. 393/2018 EMBRAER - PROF. CARRERA FIRST AMENDMENT TO THE COOPERATION AGREEMENT (GDT0029-18) FOR DEVELOPING "PART 1 – GLOBAL/LOCAL ANALYSIS OF COMPOSITE WING STRUCTURES (GLAS) PROJECT" AND "PART 2 – VALIDATION PROJECT"
CARRERA ERASMO
2021 - 2022 (Completed)
DEFENDER - DESIGN, DEVELOPMENT, MANUFACTURE, TESTING AND FLIGHT QUALIFICATION OF NEXT GENERATION FUEL STORAGE SYSTEM WITH ADVANCED INTEGRATED GAUGING AND SELF-SEALING CAPABILITIES
CARRERA ERASMO
2017 - 2021 (Completed)
ICONIC - IMPROVING THE CRASHWORTHINESS OF COMPOSITE TRANSPORTATION STRUCTURES
CARRERA ERASMO
2016 - 2020 (Completed)
Publications
Selected recent publications

At press time

An Analysis of the Propagation of Surface Acoustic Waves in a Substrate Covered by a Metal T-plate with the Carrera Unified Formulation
Article


Wu, Jinghui; Wang, Ji; Carrera, Erasmo; Augello, Riccardo
MECHANICS OF ADVANCED MATERIALS AND STRUCTURES
Taylor & Francis
ISSN:1537-6532

2023

2022

2021

2020

2019

2018

Evaluation of geometrically nonlinear effects due to large cross-sectional deformations of compact and shell-like structures
Article


Carrera, E.; Pagani, A.; Augello, R.
MECHANICS OF ADVANCED MATERIALS AND STRUCTURES
Taylor and Francis Inc.
Vol.27 pp.9 (pp.1269-1277) ISSN:1537-6494 DOI:10.1080/15376494.2018.1507063

2017

Special issue dedicated to aeroelasticity and structural dynamics
Article


Dimitriadis, G.; De Breuker, R.; Pagani, A.
ADVANCES IN AIRCRAFT AND SPACECRAFT SCIENCE
Techno Press
Vol.4 pp.2 (pp.i-ii) ISSN:2287-528X DOI:10.12989/aas.2017.4.2.00i

2016

Thermal Stress Analysis of Composite Beams, Plates and Shells
Book


Carrera, Erasmo; Fazzolari, Fiorenzo; Cinefra, Maria
ELSEVIER
pp.470 ISBN:9780128498927

2014

Temperature Profiles in Composite and Sandwich Shells
Book chapter


Carrera, Erasmo; Brischetto, Salvatore
Encyclopedia of Thermal Stresses
Richard B. Hetnarski
Vol.1 pp.9 (pp.4797-4805) DOI:10.1007/978-94-007-2739-7

FINITE ELEMENT ANALYSIS OF STRUCTURES THROUGH UNIFIED FORMULATION
Book


Carrera, Erasmo; Cinefra, Maria; Petrolo, Marco; Zappino, Enrico
John Wiley & Sons Ltd (STATI UNITI D'AMERICA)
pp.410 ISBN:9781119941217

2013

Classical, refined and component-wise analysis of reinforced-shell structures
Article


Carrera, Erasmo; Pagani, Alfonso; Petrolo, Marco
AIAA JOURNAL
AMER INST AERONAUTICS ASTRONAUTICS
Vol.51 pp.14 (pp.1255-1268) ISSN:0001-1452 DOI:10.2514/1.J052331

2011

Plates and Shells for Smart Structures: Classical and Advanced Theories for Modeling and Analysis
Book


Carrera, Erasmo; Brischetto, Salvatore; Nali, Pietro
John Wiley & Sons Ltd
pp.309 (pp.1-309) ISBN:9780470971208