The research carried out by DIMEAS, gathering the theoretical and experimental approaches in the study of fundamental and applied problems, deals primarily with the themes of mechanics and aerospace. Sectors of interest are the automotive, railway and aerospace industries, as well as the textile, food and agricultural, manufacturing industries. Moreover, the range of activity extends to the most innovative themes such as space exploration and system, materials, micro/nanotechnologies and biomedical engineering.
More specifically, the research subjects include the functional and structural design of mechanical systems and components, the aerospace systems, the aeronautical structures, fluid mechanics, fluidic systems, aerospace propulsion, flight mechanics, dynamic identification, automation and robotics, mechatronics, tribology, structural and system optimization, mechanics of innovative materials, diagnostics and prognostics, safety, reliability, bioengineering, ergonomics, history of technology.
DIMEAS proposes and carries out research in the European Framework Programs, national PRIN and FIRB projects, regional funded programs; it cooperates at an international level with several research centres and universities; it collaborates with industry promoting technological transfer and innovation. The scientific results of the studies are, in the relevant sectors, subjects of publications on the main journals or presented in international conferences.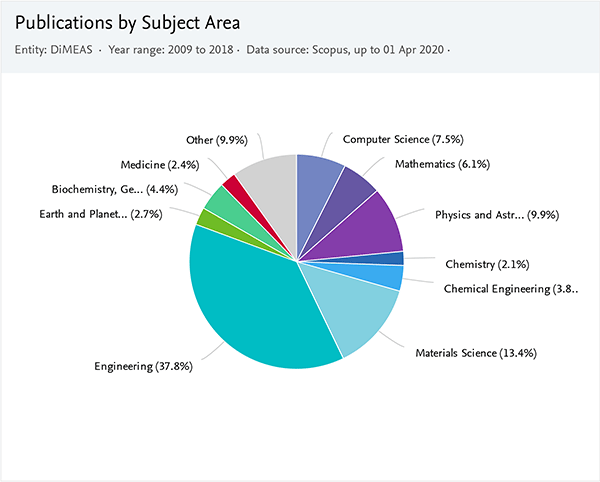 Fonte: SciVal