GIANLUCA CIARDELLI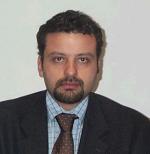 Full Professor

Coordinatore di Corso di Dottorato (Collegio di Dottorato BIOINGEGNERIA E SCIENZE MEDICO-CHIRURGICHE)
Member of Interdepartmental Center (PolitoBIOMed Lab - Biomedical Engineering Lab)

+39 0110906919 / 6919 (DIMEAS)
+39 3346648298 (DIMEAS)
Gianluca Ciardelli (Ph.D) has a Master Degree in Chemistry summa cum laude, from the University of Pisa (1994). In 1997 he received the PhD in Natural Sciences from the Swiss Federal Institute of Technology (ETH) of Zurich on synthetic degradable polyurethanes for biomedical applications.
He moved in 1997 back to Italy, where he started his activities at Tecnotessile in Prato, a private company for applied research, until June 2002. From 2002 and 2004 he was assistant professor at the University of Pisa at the Department of Chemical Engineering, Industrial Chemistry, Materials Science. In December 2004 he joined the Department of Mechanics at the Politecnico di Torino as associated professor. He became Full Professor in 2011. He has been scientific coordinator or scientific unit coordinator of several regional, national and European projects (since 4 FP to the 5,6,7 th FP and Horizon 2020) He has been coordinator of a national project (PRIN) on relevant organ Models for the INvestigation of age related Diseases (MIND), involving research units in 11 Italian universities/research centers (Total Budget 2 M€). Some of these projects have strong intersectorial character with involvement of the biomedical industry. Gianluca Ciardelli is coordinating a group of 15 people on average (Graduate Students and Post-docs, with an interdisciplinary background ranging from chemical, biomedical engineering and chemistry) carrying out research in the development of biomedical polymers and realisation of scaffolds for tissue engineering, drug delivery in nanomedicine, molecular recognition. He is currently teaching at Master (Bionanotechnology), and is Ph.D Coordiantor at Politecnico di Torino. He has been organizers of one national and two international conferences.
According to the Scopus database is the author of over 160 journal articles. The h-index is 41, the total citation number is over 6000.
Scientific branch
ING-IND/34 - BIOINGEGNERIA INDUSTRIALE
(Area 0009 - Ingegneria industriale e dell'informazione)
Skills and keywords

ERC sectors

PE8_13 - Industrial bioengineering

SDG

Goal 3: Good health and well-being

Goal 9: Industry, Innovation, and Infrastructure

Keywords

Biomaterials

Biopolymers

Nanomedicine

Polyurethanes

Regenerative medicine

Tissue engineering
Scientific responsibilities and other assignments

Editorial boards

INTERNATIONAL JOURNAL OF BIOPRINTING (2022-), Editorial board member
NANOMATERIALS (2019-), Editorial board member
JOURNAL OF HEALTHCARE ENGINEERING (2018-), Editorial board member
FRONTIERS IN BIOENGINEERING AND BIOTECHNOLOGY (2016-), Associate Editor of magazine or editorial series
JOURNAL OF APPLIED BIOMATERIALS & FUNCTIONAL MATERIALS (2015-2018), Editorial board member

Conferences

2a Conferenza Italiana di Robotica e Macchine Intelligenti/ Istituto di Robotica e Macchine Intelligenti​, Italia, 10-12/12/2020, Program committee
29th International Congress of the Society for Medical Innovation and Technology, Program chair