SABRINA CORPINO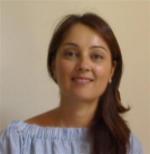 Associate Professor

Member of Interdepartmental Center (PhotoNext - Centro Interdipartimentale PoliTO sulla Fotonica applicata)

+39 0110906867 / 6867 (DIMEAS)
PhD Boards

Ingegneria aerospaziale, 2021/22 (37. ciclo)
Politecnico di TORINO
Ingegneria aerospaziale, 2020/21 (36. ciclo)
Politecnico di TORINO
Ingegneria aerospaziale, 2019/20 (35. ciclo)
Politecnico di TORINO
Ingegneria aerospaziale, 2018/19 (34. ciclo)
Politecnico di TORINO
Ingegneria aerospaziale, 2017/18 (33. ciclo)
Politecnico di TORINO
Ingegneria aerospaziale, 2016/17 (32. ciclo)
Politecnico di TORINO
Ingegneria aerospaziale, 2015/16 (31. ciclo)
Politecnico di TORINO
Ingegneria aerospaziale, 2013/14 (29. ciclo)
Politecnico di TORINO
Ingegneria aerospaziale, 2012/13 (28. ciclo)
Politecnico di TORINO
Ingegneria aerospaziale, 2011/12 (27. ciclo)
Politecnico di TORINO
View previous years

Collegi dei Corsi di Studio
Teachings

Master of Science

Progetto di missioni e sistemi spaziali/Propulsione spaziale (modulo di Progetto di missioni e sistemi spaziali). A.A. 2022/23, Ingegneria aerospaziale. Main teacher

Main teacher: Corpino Sabrina

Teaching assistants

Nr. of students: 20

ECTS credits

ING-IND/05: 6
ING-IND/07: 6

SDG

Goal 4: Quality education
Goal 9: Industry, Innovation, and Infrastructure

Sistemi aerospaziali. A.A. 2022/23, Ingegneria aerospaziale. Teaching assistant

Main teacher

Teaching assistants

Nr. of students

ECTS credits: ING-IND/05: 8

SDG

Goal 4: Quality education
Goal 9: Industry, Innovation, and Infrastructure

Sistemi aerospaziali. A.A. 2022/23, Ingegneria aerospaziale. Main teacher

Main teacher

Teaching assistants

Nr. of students

ECTS credits: ING-IND/05: 8

SDG

Goal 4: Quality education
Goal 9: Industry, Innovation, and Infrastructure

Progetto di missioni e sistemi spaziali/Propulsione spaziale (modulo di Progetto di missioni e sistemi spaziali). A.A. 2021/22, Ingegneria aerospaziale. Main teacher

Main teacher: Corpino Sabrina

Teaching assistants

Nr. of students: 153

ECTS credits

ING-IND/05: 6
ING-IND/07: 6

SDG

Goal 4: Quality education
Goal 9: Industry, Innovation, and Infrastructure

Gestione dei rischi, costi e supporto logistico integrato dei sistemi aerospaziali. A.A. 2021/22, Ingegneria aerospaziale. Teaching assistant

Main teacher: Viola Nicole

Teaching assistants

Nr. of students: 74

ECTS credits: ING-IND/05: 6

SDG

Goal 12: Responsible consumption and production
Goal 4: Quality education
Goal 9: Industry, Innovation, and Infrastructure

Sistemi aerospaziali. A.A. 2021/22, Ingegneria aerospaziale. Main teacher

Main teacher: Corpino Sabrina

Teaching assistants

Nr. of students

Corso 1: 229
Corso 2: 263

ECTS credits: ING-IND/05: 8

Challenge@PoliTo by Students - Space Economy: Take your start up to space. A.A. 2021/22, Ingegneria gestionale (engineering and management). Teaching assistant

Main teacher: Dovis Fabio

Teaching assistants

Nr. of students: 26

ECTS credits

ING-IND/05: 4
ING-INF/03: 4

SDG

Goal 8: Decent work and economic growth
Goal 9: Industry, Innovation, and Infrastructure

Sistemi aerospaziali. A.A. 2020/21, Ingegneria aerospaziale. Main teacher

Main teacher: Corpino Sabrina

Teaching assistants

Nr. of students

Corso 1: 208
Corso 2: 221

ECTS credits: ING-IND/05: 8

Gestione dei rischi, costi e supporto logistico integrato dei sistemi aerospaziali. A.A. 2020/21, Ingegneria aerospaziale. Teaching assistant

Main teacher: Maggiore Paolo

Teaching assistants

Nr. of students: 79

ECTS credits: ING-IND/05: 6

SDG

Goal 12: Responsible consumption and production
Goal 13: Climate action
Goal 4: Quality education
Goal 9: Industry, Innovation, and Infrastructure

Progetto di missioni e sistemi spaziali/Propulsione spaziale (modulo di Progetto di missioni e sistemi spaziali). A.A. 2020/21, Ingegneria aerospaziale. Main teacher

Main teacher: Corpino Sabrina

Teaching assistants

Nr. of students: 138

ECTS credits

ING-IND/05: 6
ING-IND/07: 6

Progetto di missioni e sistemi spaziali/Propulsione spaziale (modulo di Progetto di missioni e sistemi spaziali). A.A. 2019/20, Ingegneria aerospaziale. Main teacher

Main teacher: Corpino Sabrina

Teaching assistants

Nr. of students: 127

ECTS credits

ING-IND/05: 6
ING-IND/07: 6

Sistemi aerospaziali. A.A. 2019/20, Ingegneria aerospaziale. Main teacher

Main teacher: Corpino Sabrina

Teaching assistants

Nr. of students

Corso 1: 232
Corso 2: 206

ECTS credits: ING-IND/05: 8

Gestione dei rischi, costi e supporto logistico integrato dei sistemi aerospaziali. A.A. 2019/20, Ingegneria aerospaziale. Main teacher

Main teacher: Corpino Sabrina

Teaching assistants

Nr. of students: 49

ECTS credits: ING-IND/05: 6

SDG

Goal 12: Responsible consumption and production
Goal 13: Climate action
Goal 4: Quality education
Goal 9: Industry, Innovation, and Infrastructure

Progetto di missioni e sistemi spaziali/Propulsione spaziale (modulo di Progetto di missioni e sistemi spaziali). A.A. 2018/19, Ingegneria aerospaziale. Main teacher

Main teacher: Corpino Sabrina

Teaching assistants

Franchi Loris
Calvi Daniele

Nr. of students: 92

ECTS credits

ING-IND/05: 6
ING-IND/07: 6

Sistemi aerospaziali. A.A. 2018/19, Ingegneria aerospaziale. Main teacher

Main teacher: Corpino Sabrina

Teaching assistants

Nr. of students: 391

ECTS credits: ING-IND/05: 8

Progetto di missioni e sistemi spaziali/Propulsione spaziale (modulo di Progetto di missioni e sistemi spaziali). A.A. 2017/18, Ingegneria aerospaziale. Main teacher

Main teacher: Corpino Sabrina

Teaching assistants

Franchi Loris
Calvi Daniele

Nr. of students: 95

ECTS credits

ING-IND/05: 6
ING-IND/07: 6

Sistemi aerospaziali. A.A. 2017/18, Ingegneria aerospaziale. Main teacher

Main teacher: Corpino Sabrina

Teaching assistants

Nr. of students: 306

ECTS credits: ING-IND/05: 8

Progetto di missioni e sistemi spaziali/Propulsione spaziale (modulo di Progetto di missioni e sistemi spaziali). A.A. 2016/17, Ingegneria aerospaziale. Main teacher

Main teacher: Corpino Sabrina

Teaching assistants

Feruglio Lorenzo
Franchi Loris

Nr. of students: 85

ECTS credits

ING-IND/05: 6
ING-IND/07: 6

Sistemi aerospaziali. A.A. 2016/17, Ingegneria aerospaziale. Main teacher

Main teacher: Corpino Sabrina

Teaching assistants

Nr. of students: 342

ECTS credits: ING-IND/05: 8

View previous years
Team Students

Supervisor of the team CubeSat Team
Team leader: Rosa Tarda

"The CubeSat PoliTO Team is a student team of Politecnico di Torino involved in the design and development of space small platforms for scientific missions and in orbit demonstration of novel technologies. The team was created in 2008 on the initiative of students and professors of Aerospace Engineering. Two CubeSats have been developed until now: E-ST@R-I, launched into orbit on February 2012, and E-ST@R-II, launched on April 2016 within the Fly your satellite! programme of the European Space Agency. Students of Aerospace, Mechanical, Electronic, Communications and Computer Engineering are working together to build their dreams!"